Relax:
Time travel in "time warp country".
Lead an active life and enjoy your free time – that's the way we approach life here in the Zwickau Region.
Explore forests on cycling and hiking trails, go kayaking and discover our rivers, enjoy cultural events with music and art. However you experience our region – on foot, with your hands, or through your eyes and ears – it will certainly leave an impression.
And with so much on offer, it's easy to forget the time. Isn't it wonderful to have such a wealth of leisure opportunities?
That's why we like to call ourselves "time warp country". Not just because it's easy to let time slip away from you when you're enjoying yourself, but because you can also travel back through the ages: in libraries, castles, museums, churches and castles. Be a tourist in your own (new) home.
The people here are deeply connected to their history, tradition and culture. It's a heritage that's not only carefully guarded and passed down through the generations. It's also alive in everyday life, generating new forms of creativity.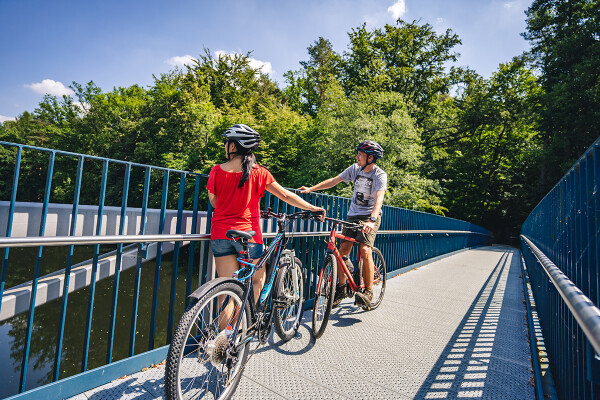 Life is full of joy – and friendship –here. Sport here is something that people like to share. And no wonder, when there's such a vast array of sports clubs to choose from. Grassroots sport, professional sport... we have it all.